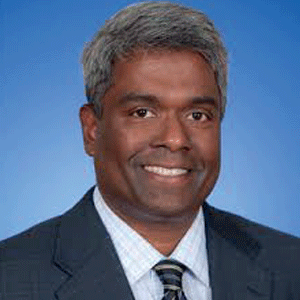 George Kurian, CEO
DreamWorks Animation, a global entertainment leader, while making 'How to Train Your Dragon' in 2010, faced a technological challenge that restricted them to show only eight dragons on the screen, as more would lead to a system break down. Additionally, more detailing of the animation characters is directly proportional to more data being generated and it becomes difficult to manage the generated data. Hence, to expand their animating capabilities, the animation studio looked towards their partner NetApp, the company in focus for the article, for a robust technological infrastructure that will allow their artist to realize the full potential of their imagination without any technological roadblock. DreamWorks Animation while making its third and a recent iteration of the movie—"How to Train Your Dragon: The Hidden World"—created a mesmerizing dragon world, involving 60,000 dragons and 750 terabytes of data. All of this was possible because NetApp was efficiently handling and managing the data requirements of the studio. That allowed DreamWorks to solely focus on bringing out charismatic animated characters and keep the audience hooked to the movies. "Technological excellence is the underpinning of our ability to do that," mentions Kate Swanborg, SVP, Technology Communications and Strategic Alliances, DreamWorks Animation.
NetApp, a hybrid multicloud provider, offers a full range of hybrid cloud data services that simplify management of applications and data across cloud and on-premises environments to accelerate digital transformation. Moreover, covering all the aspect related to backup and storage, NetApp offers plethora of products and solutions, right from cloud services to flash storage to data infrastructure management making it a one-stop shop.
We hold a unique position in our industry with the people, technologies, partnerships, scale, and financial strength needed to help enable our customers' success in this new data-powered digital era
For example, their All-Flash storage systems include FAS A-Series, SolidFire, EF-Series, whereas, they also have hybrid flash arrays for storage area network (SAN) and network attached storage (NAS) environments. NetApp's cloud-connected flash solutions provide the simplicity, operational efficiency, and protection needed to support innovation, add unprecedented performance, and power the most demanding data sets and technologies, such as artificial intelligence or 5G networks. Apart from providing, the necessary hardware for data storage, also on offer is NetApp software defined storage (SDS) that are designed to speed delivery of IT services to application owners, offering flexible configurations and agile deployment options. Their different SDS technologies include, ONTAP Select and StorageGRID. Additionally, NetApp data management software—ONTAP, Element, SANtricity— empowers to manage the data, on premise and across private as well as on public clouds, with unprecedented flexibility.
Another crucial component that NetApp focuses on is backup and recovery. It is a very crucial component for businesses to safeguard their data. To this end, the company offers the right solutions to protect the data across the hybrid cloud. Their SnapCenter backup-and-recovery management software, streamlines the hybrid cloud with application-consistent data-backup management. The software leverages a centralized GUI for monitoring, notification, logging, reporting, backup schedules, and clone management.
Making continuous innovation to their products and offerings, AEC, very recently announced NetApp ONTAP 9.6, the new midrange, end-to-end NVMe AFF A320 storage system and along with it, an extended portfolio of services to help businesses maximize the value of their data. ONTAP 9.6 data management software allows organizations of all sizes to maximize the value of data and take on new data-driven initiatives. "We hold a unique position in our industry with the people, technologies, partnerships, scale, and financial strength needed to help enable our customers' success in this new data-powered digital era," concludes George Kurian, CEO, NetApp.